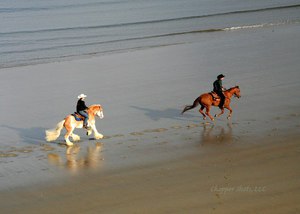 Popham Beach Rides

Sable Oak's popular Adventure Beach Rides begin in October and run until March 31. Sherrye guides rides along Maine's beautiful curving expanse of Popham Beach. Sherrye offers these rides to all levels of riders on her safe and seasoned school horses. Riding on the beach for a couple of hours with your partner, your best friend or simply solo with Sherrye leading the experience is an experience adventure riders will never forget. The Adventure Rides at Popham Beach are very popular so reserve your date with Sherrye in advance.
Advanced registration and deposit is required. Deposit is refundable in case of bad weather or emergency cancellation within 24 hrs. Deposit is credited to your ride fee and balance is due upon arrival. We accept Credit, Check, PayPal, Venmo, and Cash. Gift Certificates are also available. 
Popham Adventure Beach Rides: $250/hr for one rider; $175/hr each for 2 riders. A 50% deposit is due for each rider.
Adventure Rides at Sable Oak (one and a half hours): $75 per rider
Riders can request western or English tack and helmets are provided upon request.
Sable Oak offers guided trail rides each riding season beginning in the spring and ending in late fall. These rides are led by Sherrye or on dirt roads, through the woods and fields, and on a network of trails. The rides are available to all level and age of rider and begin in the arena for an assessment of riding skills. The Adventure Rides are a great way for families and friends to ride together in Maine's historic and scenic Brunswick landscape.
Print our PBR form. Contact Sherrye to book a ride!